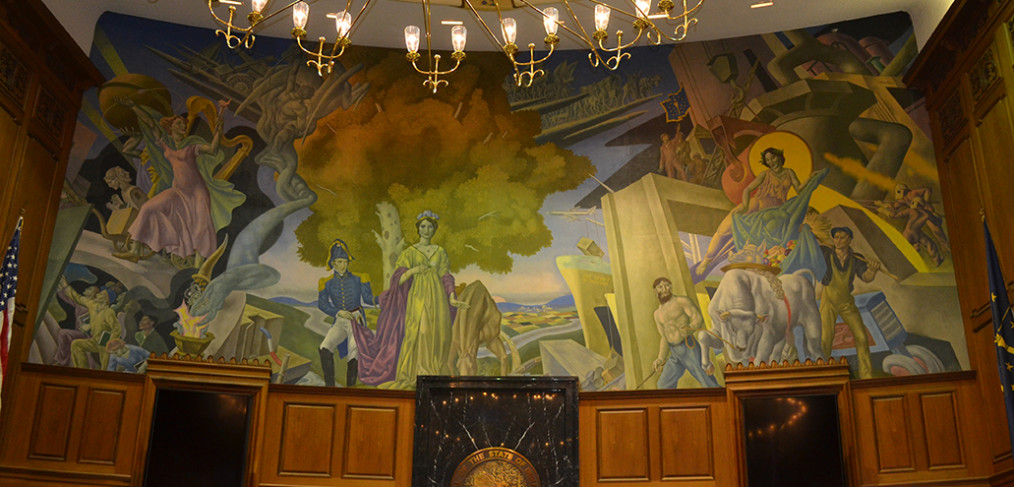 Indiana's Statehouse isn't all that bad
I nearly "blew off" that day. I just knew the day before me was about to be excruciatingly awkward. Normally, I'd choose spending time on my passional job—my fine artwork. But this early spring day, I didn't want to take the time away from my professional job. As a visual communications art director and designer, I didn't want to leave co-workers with my work for that day. Or was it something else keeping me away? After a little back-and-forth bickering with Mister Whitesell, we headed down to our state's capital, Indianapolis.
After all, the Lieutenant Governor was expecting a painting from me.
Now, unless you've lived without a television, internet, or simply have your head buried in the ground, I'm sure you've heard the Indiana hub-bub. Indiana's experienced a couple of complicated few weeks after Governor Mike Pence signed Indiana's RFRA bill into law. (If you stumbled upon my blog post assuming I may rehash any faux pas—which occurred on both sides—then you'll be disappointed.) I realized I was expected at the Indiana Statehouse the one day separating the State Senate passing the bill and the day before Pence was to sign the bill into law behind closed doors. Imagine the anxiety an artist might feel.
When it comes to art and politics, we artists either tackle politics head-on or we retreat from the subject altogether. I fall into that latter category of artists. Politics isn't something I project in my art, and nothing I'm willing to conversate visually in my artwork. The idea of being shoved into that bureaucratic (and potentially hostile) environment. Before I had made the trek to Indianapolis, I broke out in a case of hives. My mind raced. I couldn't grasp any vision short of screaming protestors, disdained politicians, and gray-haired, white men in suits surrounding me. Ack! Anxiety!
After arriving, we parked and walked the labyrinth of staircases, tunnels, escalators, and hallways. In that maze somewhere, we were scanned as if we were going through security at an airport. Every state trooper and state security worker were nothing short of helpful and friendly. A few were jokesters. I wasn't expecting that.
Under my arm, I had a painting of mine titled, "The Culmination of Amy." In one hand, I held my purse and a water bottle. On my back was a camera case strapped to me like a pack mule. I looked at my phone and realized I had a solid hour-and-a-half to kill before the awards program started. I delivered my painting to the Lieutenant Governor's office. I still thought that I'd have a television anchor surprise me and ask me about my views on IRFRA. Eggshell walking endured.
It was 12:30pm and the Hoosier Women Artist program wasn't to start until 2pm. So Mr. Whitesell and I decided to take a walking tour of the Statehouse. Before our tour started, I found myself staring up at the rotunda.
The dome overhead had the most mesmerizing cobalt blues with a gorgeous cadmium yellow center. Just underneath the dome, eight female figures carved from Italian Carrara marble, represents Indiana virtues: law, oratory, commerce, agriculture, liberty, justice, history, and my favorite gal who represented art.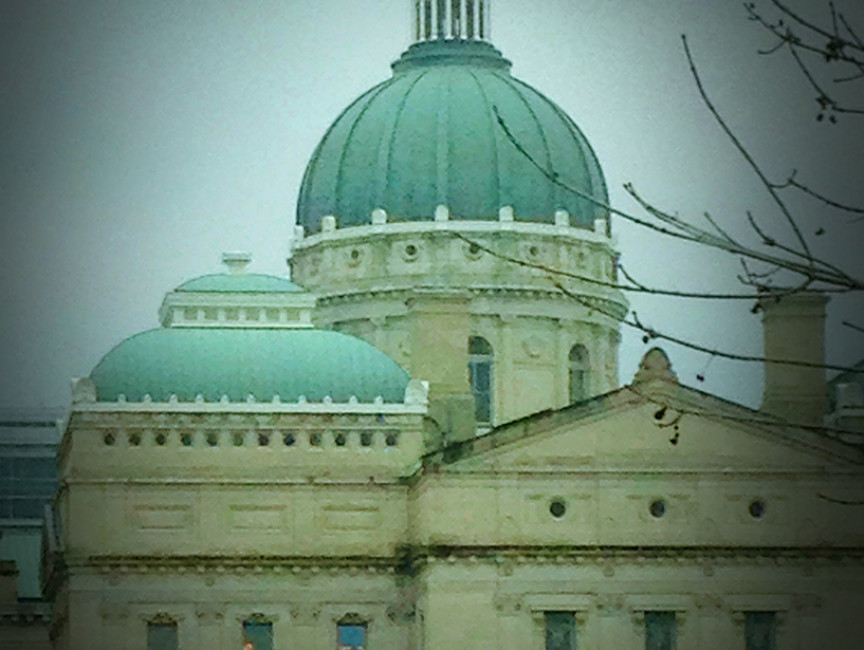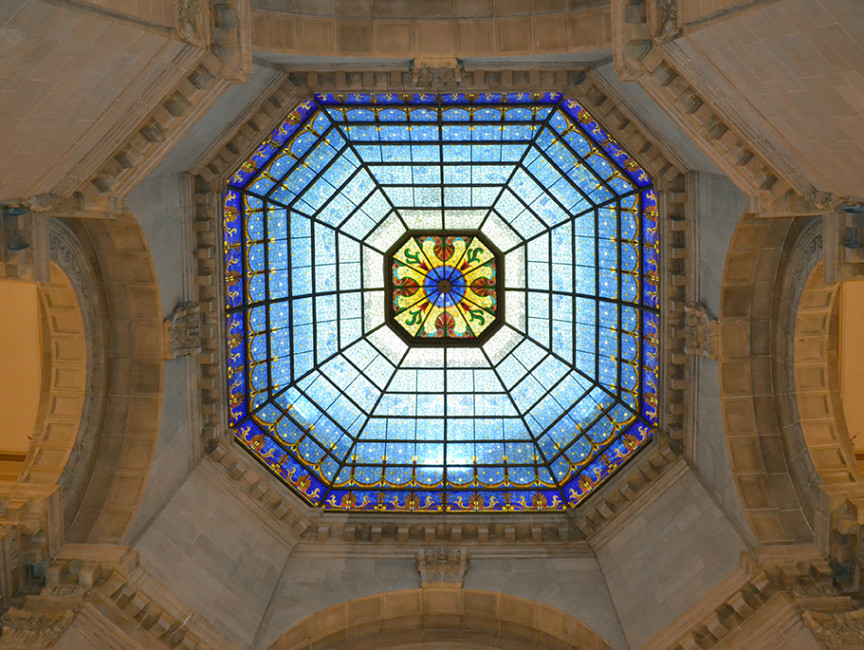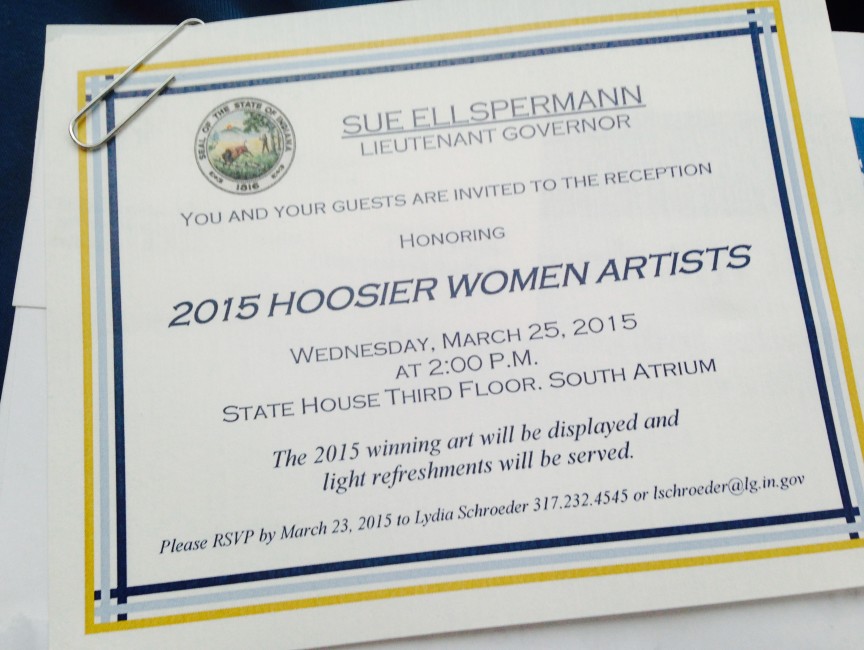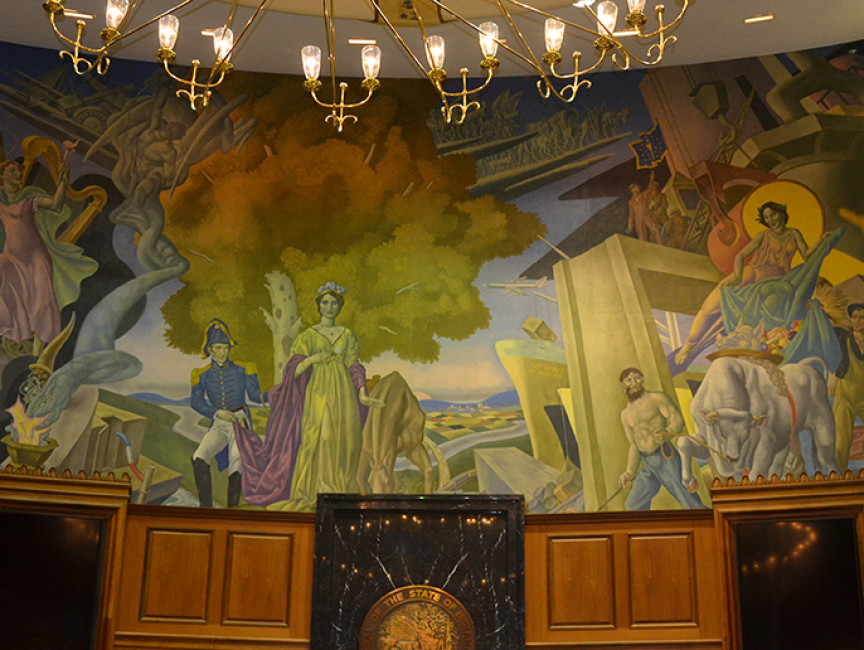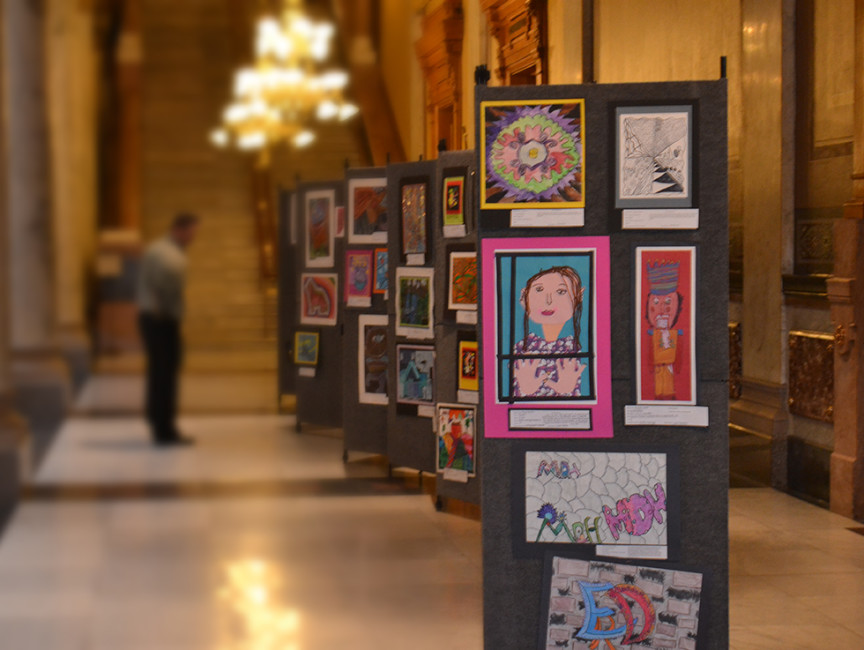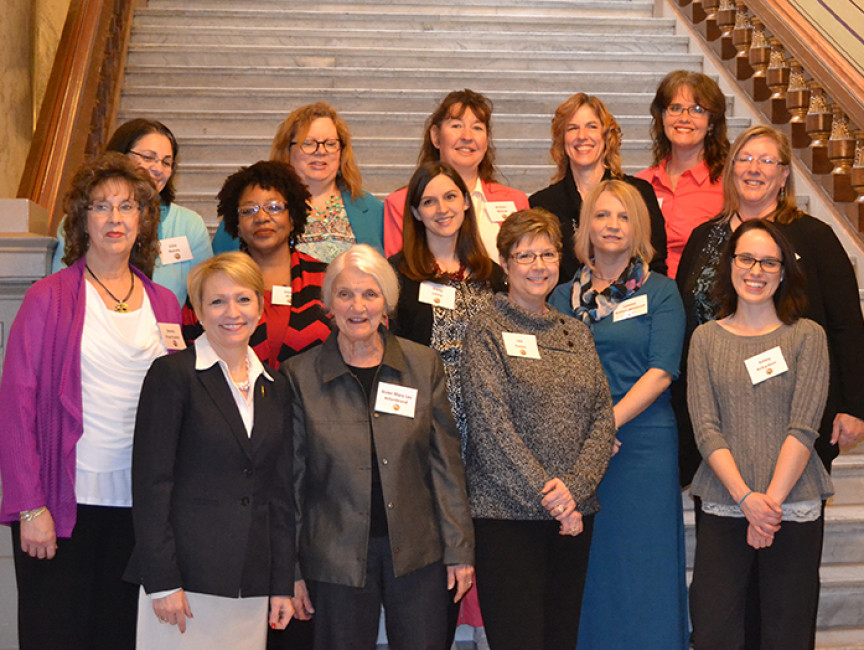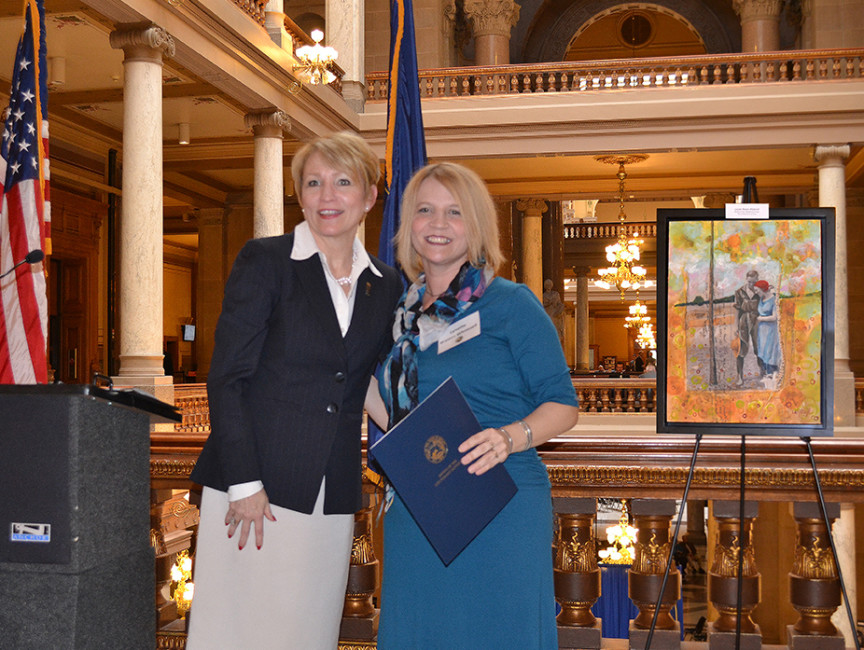 The tour began; we learned the ornamental embellishments needed restoring. These decorative detail paintings throughout added character in the style of 1886—the year they built the statehouse. The state even utilized the skills of Herron School of Art students and professors. (Oddly, the jurying of the Hoosier Women Artists were selected by Herron School of the Art Professor and panel.) I relished in the architectural oddities of the marble columns. The third floor columns had ionic capitals, and yet the second floor were Corinthian capitals.
Continuing the tour, the array of folks landed in the House of Representatives Chamber. I honestly forgot I was standing in the room where bills are contemplated, passed or denied. And with the hives from earlier and anxiety flipping throughout my torso, how was that so? Easily. My eyes rested upon, digested and interpreted an amazing image above the bench within that room. The only half-political thought that entered my noggin as I walked away was, "how does anyone accomplish work when this amazing, mid-century mural is the focus of the front of the room?" Commerce, agriculture, industrialization, education, history, liberty, and art; the themes continue.
We toured a bit more, through the Senate Chamber, the State Judiciary Hall, and soon we realized needed to be on another floor. (Oh yeah, that reception thing…cue stress-induced asthmatic attack.) Upon tromping through the corridors, we stumbled upon yes, more art. The makeshift, temporary gallery walls aligned the halls with colorful, raw-emotion-filled honesty. Children's art. The introductory graphics informed visitors that elementary through high school children had their work displayed at the Indiana Statehouse for National Art Month. I imagined being a child at that moment. What an amazing feat to be in grade school and know that your art was hanging for nearly 1000 visitors a week to see it. Let me tell you, there is some crazy talent nipping at our heels—just ready to take over the world with their artwork. Putting myself in those artsy kiddos shoes was the most inspiring feeling to dwell on for just a few minutes.
It was peculiar that the jurying panel selected me as one of this amazing group of women artists. There were fourteen of us—just under 10% of those entered—to represent Women in Arts Month. This honor given went to smattering of different women. Varying ages, races, and even different heights were noticeable.
But politics? Not one uttering of politics—still.
After some snapshots of the entire group, we were welcomed indulge in the light refreshments and then make our way to the seating. As I found my way to a chair, I stopped one of the artists, and we chatted about her work.  Everywhere, I encountered friendly faces eager to talk art!
One-by-one, each female artist was called up to the podium and was handed her award by the Lieutenant Governor, Sue Ellspermann. Per usual, having a last name at the end of the alphabet can assure that I'll be called nearly last. This day, I was at the end of the list. The one thing I noticed was the way the Lieutenant Governor read the title to my piece. She read it as a question: "Lynette K. Waters-Whitesell withThe Culmination of…Amy?"
Once all artists' hands were shook and certificates handed out, Ms. Ellspermann visited each artist one at a time. I watched as she made her way around the room, discussing each woman's artwork which would soon hang on the walls in her office. How refreshing to see so many ladies chatting about their inspirations, their methods, and their concepts along with approach to all fourteen works. The Lt. Governor was honestly interested in the work. Sure, she would eventually become acquainted with each work since they will hang in her office for the duration of a year. But she wanted to hear each of our stories.
And that questioning tone Ms. Ellspermann had in her voice when announcing my work? We had an amazing chat about the storyline and voice behind this particular piece.  After telling Ms. Ellspermann about how Blackford County had a considerable elevated cancer level and statistics in comparison to the rest of the state, she became interested in my concerns. It wasn't politics. It was care for her fellow human. By this time in the day, the cynicism and fear of gutless politics had left my mind. Ms. Ellsperman asked if I had family or friends with cancer. I mentioned a few but didn't dwell long on those loved ones. But in a moment, she lit up and said, "ah, Amy. The Culmination ofAmy." We connected. She understood. She didn't know Amy, but she knew someone who could have been Amy, or someone who represented Amy in her life. We all know an Amy.
I gained ten times what I believed I could. An open mind (and more than a few reminders from the Mister that "this day is about art") gave me inner peace to enjoy the day. One of my dear friends (and ironically, a former politician) would say to me "stand tall!"  I could stand tall. No more hives, no assumed asthma attacks, and no anxious jitters.
And yes, the chaos of politics would spill-over into the next day and following weeks, but my experiences on Wednesday, March 25, 2015 were of support, inspiration and understanding. Oh, and everywhere, there was art.
---
For more information on cancer in Indiana, click here: http://indianacancer.org  Also, if you want specific county's statistics, you can find a list of counties listed and click to find those stats in a pdf. et al: http://indianacancer.org/resources/blackford.pdf
For additional information about the architecture of the Indiana Statehouse in the Renaissance Revival style, go here: http://www.in.gov/idoa/2431.htm  And if you're curious about the Hoosier Women Artists, click here: http://goo.gl/HAeh6r